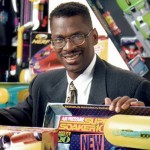 October 6, 1949 Lonnie George Johnson, inventor of the Super Soaker, was born in Mobile, Alabama.
Johnson earned a Bachelor of Science in Mechanical Engineering in 1973 and a Master of Science in Nuclear Engineering in 1976 from Tuskegee University. After graduating, he worked for the United States Air Force and the National Aeronautics and Space Administration in various capacities from 1978 to 1987.
On May 7, 1986, Johnson received patent number 4,591,071 for the Power Drencher, a high power water gun. It was 1989 before Johnson could find a company to manufacture and distribute his invention. By 1992, the Super Soaker was the number one selling toy in America.
In 1991, Johnson formed his own company, Johnson Research and Development. He continues to create gadgets ranging from a new type of rechargeable battery to an advanced dart gun. Johnson has close to 100 patents to his name.