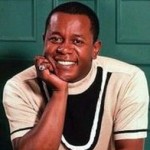 November 25, 1998 Clerow "Flip" Wilson, Jr., comedian and actor, died.
Wilson was born December 8, 1933 in Jersey City, New Jersey. He lied about his age at 16 and joined the United States Air Force where his personality and funny stories made him popular. After his discharge, he became a regular at the Apollo Theater in Harlem and appeared on a number of television variety shows.
In 1970, he won a Grammy Award for Best Comedy Album, "The Devil Made Me Buy This Dress." Also that year, "The Flip Wilson Show" debuted on television with Wilson playing characters such as Reverend Leroy, pastor of the Church of What's Happening Now and Geraldine, whose line "the devil made me do it" became a national expression.
The show aired through 1974 and was nominated for eleven Emmy Awards, winning two. Wilson also appeared in the films "Uptown Saturday Night" (1974) and "The Fish That Saved Pittsburgh" (1979).
---