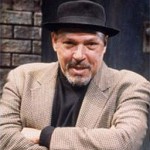 October 2, 2005 Frederick August Wilson, playwright, died.
Wilson was born Frederick August Kittel on April 27, 1945 in Pittsburgh, Pennsylvania. He dropped out of high school in the tenth grade and used the Carnegie Library to educate himself. He made such extensive use of the library that they later awarded him a degree, the only one they have bestowed. In 1968, Wilson co-founded the Black Horizon Theater and performed his first play, "Recycling."
In 1978 he moved to St. Paul, Minnesota and took a job writing educational scripts for the Science Museum of Minnesota and began writing his "Pittsburgh Cycle," a series of ten plays, each set in a different decade that sketch the Black experience in the 20th century.
The best known of these plays are "Ma Rainey's Black Bottom" (1984), "Fences" (1985), which won a Pulitzer Prize and a Tony Award, "Joe Turner's Come and Gone" (1988), and "The Piano Lesson" (1990), which won a Pulitzer Prize and the New York Drama Critics' Circle Award. Two weeks after Wilson's death the Virginia Theater in New York City's Broadway theater district was renamed the August Wilson Theater, the first Broadway theater to bear the name of an African American.
In 2006, the African American Cultural Center of Greater Pittsburgh was renamed the August Wilson Center for African American Culture and in 2007 Wilson's childhood home was declared a historic landmark by the State of Pennsylvania.