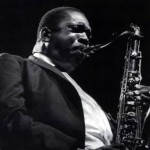 September 23, 1926 John William Coltrane, jazz saxophonist and composer, was born in Hamlet, North Carolina.
In 1945, he enlisted in the United States Navy and played in the Navy jazz band. After returning to civilian life, he began freelancing around Philadelphia. From October, 1955 through April, 1957 Coltrane was part of the Miles Davis Quintet that recorded the 1956 albums "Cookin, Relaxin, Workin" and "Steamin".
In 1958, he rejoined Davis and appeared on "Milestones" (1958) and "Kind of Blue" (1959). In 1960, Coltrane recorded "Giant Steps", the first album of his compositions. In 1964, the John Coltrane Quartet produced their most famous recording, "A Love Supreme". Coltrane was inducted into the Down Beat Jazz Hall of Fame in 1965 and he died on July 17, 1967. In 1982, Coltrane was awarded a posthumous Grammy Award for Best Jazz Solo Performance on "Bye Bye Blackbird" and in 1997 he was posthumously awarded the Grammy Lifetime Achievement Award.
The John Coltrane House in Philadelphia was designated a National Historic Landmark in 1999 and the John Coltrane Home in Huntington, New York was added to the National Register of Historic places in 2007. Also in 2007, Coltrane was posthumously awarded a Special Citation from the Pulitzer Prize Board. Many books have been written about Coltrane, including "Coltrane: A Biography" (1975) and "John Coltrane: His Life and Music" (1999).