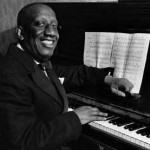 February 1, 1894 James Price Johnson, pianist, composer, and one of the originators of the stride style of jazz piano playing, was born in New Brunswick, New Jersey.
Johnson began playing professionally in 1912 and before he was twenty years old had gained a reputation as one of the premier ragtime pianist on the East coast. Besides being a jazz piano pioneer, Johnson composed many hit tunes for the musical theater, including "Charleston," "If I Could Be With You (One Hour Tonight)," "Don't Cry Baby," and "Snowy Morning Blues."
Johnson retired from performing in 1951 and died on November 17, 1955. A collection of Johnson's papers is housed at the Institute of Jazz Studies at Rutgers University. Johnson was posthumously inducted into the Songwriters Hall of Fame in 1970, the Down Beat Jazz Hall of Fame in 1973, and the ASCAP Jazz Wall of Fame in 2007. In 1995 the United States Postal Service issued a commemorative postage stamp in his honor.
Johnson's biography, "A Case of Mistaken Identity: The Life and Music of James P. Johnson," was published in 1984.
---