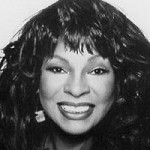 July 18, 1941 Martha Rose Reeves, R&B singer and former politician, was born in Eufaula, Alabama but raised in Detroit, Michigan.
In 1957, Reeves formed a vocal group called the Del-Phis with three other female teenagers and they recorded one single, "I'll Let You Know", in 1961. In 1962, the group, minus one member, signed with Motown and were renamed Martha and the Vandellas. Initially they helped other Motown acts by singing background, most prominently on Marvin Gaye's "Stubborn Kind of Fellow" (1962), "Hitch Hike" (1962) and "Pride & Joy" (1963).
Martha and the Vandellas quickly ascended from background singers with hits that included "Come and Get These Memories" (1963), "Dancing in the Streets" (1964), "Nowhere to Run" (1965), and "Jimmy Mack" (1967). The group disbanded in 1972 and in 1974 Reeves released her first solo album, "Martha Reeves." Reeves released several additional solo albums with limited commercial success.
In 1995, Martha and the Vandellas were inducted into the Rock and Roll Hall of Fame and in 2003 they were inducted into the Vocal Group Hall of Fame. In 2005, Reeves was elected to the Detroit City Council where she served until 2009.