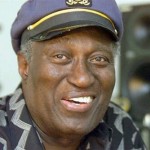 July 6, 2010 Harvey Fuqua, singer, songwriter, record producer, and executive, died.
Fuqua was born July 27, 1929 in Louisville, Kentucky. In 1951, he formed a vocal group called the Crazy Sounds. Later they moved to Cleveland, Ohio and were renamed The Moonglows. The group recorded their first single in 1953 and their 1954 single "Sincerely" reached number one on the R&B charts. Fuqua left the group in 1958 and recorded a couple of hit duets with Etta James, "If I Can't Have You" (1960) and "Spoonful" (1961).
In 1961, Fuqua started his own record label with acts such as the Spinners and Junior Walker. Shortly afterwards, he joined Motown Records and brought the Spinners and Johnny Bristol with him. He also was responsible for bringing Tammi Terrell to the company and suggesting and producing her duets with Marvin Gaye, including "Ain't No Mountain High Enough" (1967) which was inducted into the Grammy Hall of Fame as a recording of "qualitative or historical significance."
In 1982, Fuqua produced Marvin Gaye's album "Midnight Love" which included the single "Sexual Healing." In 1995, Fuqua and his wife founded The Foundation for the S. T. A. R. S. (Souls Taking Action Reaching Souls) to address the difficulties that plague underprivileged youth in the inner-cities of America, with the belief that every dream should at least have the opportunity to be realized. In 2000, Fuqua was inducted into the Rock and Roll Hall of Fame as a member of The Moonglows.