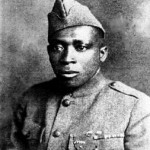 July 5, 1929 Henry Lincoln Johnson, soldier and recipient of several medals, died penniless and without official recognition from the United States government.
Johnson was born in 1897 in Alexandria, Virginia and moved to Albany, New York in his early teens. Johnson enlisted in the army in 1917, joining the all-black New York National Guard unit which was assigned to the French command during World War I. While on guard duty on May 14, 1918, Johnson came under attack by a German raider party.
Johnson displayed uncommon heroism when using his rifle and a knife he repelled the Germans, thereby rescuing a comrade from capture and saving the lives of his fellow soldiers. For his actions, Johnson was the first American soldier in World War I to receive the Croix de Guerre with star and Gold Palm from the French government. In 1991, a monument was erected in his honor in Albany and a street was renamed Henry Johnson Boulevard.
In 1996, he was posthumously awarded the Purple Heart and in 2003 the Distinguished Service Cross, the army's second highest award.