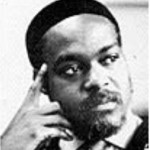 July 5, 1950 Earl Shinhoster, civil rights leader, was born in Savannah, Georgia.
Shinhoster got involved in the NAACP's Savannah branch youth council at a young age and was president of the council at 16. He earned his bachelor's degree in political science from Morehouse College in 1972 and later earned his Juris Doctor degree from Cleveland State University College of Law.
After returning to Atlanta, he took a staff position with the NAACP where he worked for the next 25 years, including serving as interim director of the organization from 1994 to 1995. During his brief tenure, $1 million in debt was eliminated and membership increased from 600,000 to nearly 1 million.
From 1996 to 2000, Shinhoster served as coordinator of voter education for the Georgia Secretary of State's office. There he developed a program to increase voter participation. Shinhoster died in a car accident on June 11, 2000 and the Earl T. Shinhoster Interchange, the Earl T. Shinhoster Bridge, and the Earl T. Shinhoster Post Office are all named in his honor.