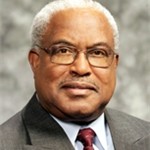 September 2, 1975 Joseph W. Hatchett was appointed to the Florida Supreme Court, making him the first African American Supreme Court justice in the South in the 20th century.
Hatchett was born September 17, 1932 in Clearwater, Florida. Because the law schools in Florida were segregated, Hatchett attended Howard University Law School and graduated in 1959.
From 1960 to 1966, he worked with the NAACP Legal Defense Fund. In 1979, Hatchett resigned from the Florida Supreme Court to accept an appointment to the United States Court of Appeals for the 5th Circuit, the first African American to be appointed to that court. He remained on that court until 1999 and served as chief justice from 1996 to 1999. He now works in private practice.