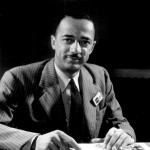 April 14, 1976 William Henry Hastie, lawyer, judge, educator and civil rights advocate, died.
Hastie was born November 17, 1904 in Knoxville, Tennessee. Hastie earned his Bachelor of Arts degree from Amherst College in 1925, graduating first in his class and magna cum laude. He then earned his law degree and a doctorate in Judicial Studies from Harvard Law School in 1930 and 1933, respectively.
In 1937, President Franklin D. Roosevelt appointed Hastie to the United States District Court for the Virgin Islands, making him the first African American Federal judge. In 1939, Hastie resigned from the court to become Dean of the Howard University School of Law. During World War II, Hastie worked as a civilian aide to the Secretary of War where he advocated for the equal treatment of African Americans in the army.
In 1943, he resigned the position in protest against segregated training facilities. Also that year, Hastie was awarded the NAACP Spingarn Medal. In 1946, President Harry Truman appointed Hastie territorial Governor of the Virgin Islands and in 1949 he appointed him to the U. S. Court of Appeals; in both cases Hastie was the first African American to serve in the position. In 1968 Hastie became Chief Judge of the 3rd Circuit Appellate Court, a position he held for three years.