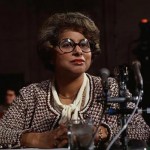 March 23, 1985 Patricia Roberts Harris, the first African American woman to serve as a United States Ambassador, died. Harris was born May 31, 1924 in Mattoon, Illinois.
She graduated summa cum laude from Howard University in 1945 and in 1960 graduated from the George Washington University National Law Center. In 1965, President Lyndon Johnson appointed her Ambassador to Luxembourg where she served until 1967. In 1969, Harris was named Dean of Howard University's School of Law and she held that position until 1972.
In 1977, President Jimmy Carter appointed Harris Secretary of Housing and Urban Development and in 1979 she became Secretary of Health, Education and Welfare where she served until 1981. In 1982, she was appointed a professor at the George Washington National Law Center, a position she held until her death.