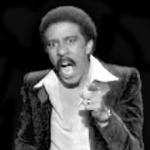 December 10, 2005 Richard Franklin Lennox Thomas Pryor, III, comedian, writer and actor, died.
Pryor was born December 1, 1940 in Peoria, Illinois. After his discharge from the army in 1960, he began working as a professional comic in clubs throughout the Midwest. In 1963, he moved to New York City and began to gain national recognition and appear on variety shows such as "The Ed Sullivan Show" and "The Tonight Show."
In 1967, Pryor appeared in his first movie, "The Busy Body," and in 1968 recorded his first album, "Richard Pryor." Over his career, he won Grammy Awards for Best Comedy Album for "That Nigger's Crazy" (1975), "Is It Something I Said" (1976), "Bicentennial Nigger" (1977), "Rev Du Right" (1982), and "Live on the Sunset Strip" (1983). He also won the Emmy Award for Writing in Variety or Music in 1974 for a Lily Tomlin television special. Pryor appeared in more than 50 movies, including "Wild In the Streets" (1968), "Lady Sings The Blues" (1972), "The Wiz" (1978), "Superman III" (1983), and the semi-autobiographical "Jo Jo Dancer, Your Life is Calling" (1986).
Pryor published his autobiography, "Pryor Convictions and Other Life Sentences," in 1995. In 1998, Pryor won the first Mark Twain Prize for American Humor from the John F. Kennedy Center for the Performing Arts and in 2006 he was posthumously awarded the Grammy Lifetime Achievement Award. Pryor is listed number one on Comedy Central's list of all-time greatest stand-up comedians.