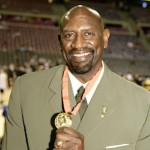 April 22, 1949 Spencer Haywood, retired basketball player, was born in Silver City, Mississippi.
Haywood moved to Detroit, Michigan and in 1967 led Pershing High School to the Michigan State Basketball Championship. In 1968, Haywood was the leading scorer on the United States' Gold Medal winning Olympic team in Mexico City. Later that year, he transferred to the University of Detroit and in the next season led the nation in rebounding while scoring 32.1 points per game.
After that season, Haywood decided to turn professional but National Basketball Association rules prohibited him from joining the NBA until his college class graduated. As a result, he joined the American Basketball Association and in his rookie year led the league in scoring and rebounding and was named the Rookie of the Year and the Most Valuable Player.
In 1970, Haywood challenged the NBA eligibility rule and the case went to the Supreme Court before the NBA agreed to a settlement that allowed him to play immediately. Over his 10 season NBA career, Haywood was a four-time All-Star. Haywood's number 24 jersey was retired by the Seattle SuperSonics in 2007.
---