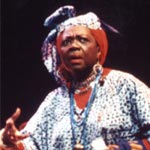 October 29, 1994 Pearl Primus, dancer, choreographer, and anthropologist, died.
Primus was born November 29, 1919 in Port of Spain, Trinidad and Tobago. Early in her career, Primus saw the need to promote African dance as an art form worthy of study and performance. In 1943, she presented her first composition, "African Ceremonial."
She was the first dancer to present the African American experience within the framework of social protest in dances such as "The Negro Speaks of Rivers" (1944), "Strange Fruit" (1945), and "Hard Time Blues" (1945). In 1959, Primus earned a Master of Arts in Education and in 1978 a Ph. D. in Dance Education from New York University.
In 1979, she created "Michael Row Your Boat Ashore" about the 1963 Birmingham, Alabama church bombing. From 1984 to 1990, Primus served as Professor of Ethnic Studies at the Five Colleges Consortium in Massachusetts and in 1990 she became the first chair of the Five Colleges Dance Consortium.
In 1991, President George H. W. Bush presented Primus with the National Medal of Arts.