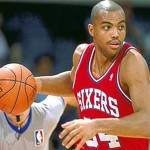 February 20, 1963 Charles Wade Barkley, hall of fame basketball player, was born in Leeds, Alabama.
Barkley played college basketball at Auburn University where he was a three-time All-SEC selection and Conference Player of the Year in 1984. Barkley was selected by the Philadelphia 76ers in the 1984 NBA Draft and over his 16 year professional career was an 11-time NBA All-Star, 5-time All-NBA First Team Selection, and the 1993 NBA Most Valuable Player.
Additionally, he won Gold Medals in 1992 in Barcelona and 1996 in Atlanta as a member of the United States Olympic Basketball Teams. Barkley retired in April, 2000 and published a memoir, "I May Be Wrong but I Doubt It," in 2002. In March, 2001, Barkley's jersey number was retired by Auburn University and the Philadelphia 76ers, and in March, 2004 it was retired by the Phoenix Suns.
Barkley was inducted into the Naismith Memorial Basketball Hall of Fame in 2006. Since retiring as a player, Barkley has had a successful career as an Emmy Award winning commentator on basketball.
---