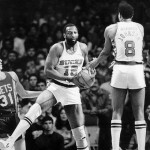 September 10, 1948 Robert Jerry Lanier, Jr., hall of fame basketball player, was born in Buffalo, New York. Lanier played college basketball at St. Bonaventure University and was a three-time All-American. He graduated from St. Bonaventure with a B. A. degree in Business Administration in 1970.
Lanier was selected number one overall by the Detroit Pistons in the 1970 NBA Draft. Over his 14 season professional career, he was a six-time All-Star. In 1978, he won the J. Walter Kennedy Citizenship Award for "outstanding service and dedication to the community" and in 1984 he won the Oscar Robinson Leadership Award.
Lanier retired in 1984 and was inducted into the Naismith Memorial Basketball Hall of Fame in 1992. He is currently the founder and president of Bob Lanier Enterprises in Milwaukee, Wisconsin.