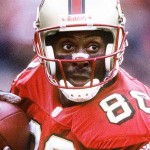 October 13, 1962 Jerry Lee Rice, hall of fame football player, was born in Starkville, Mississippi.
Rice played football for Mississippi Valley State University and in 1984 was named to every All-American team. He was selected by the San Francisco 49ers in the 1985 NFL Draft and in his first year was named Offensive Rookie of the Year.
Over his 20-season professional career, Rice was a 3-time Super Bowl champion, 13-time Pro Bowl selection, and 2-time Offensive Player of the Year. Rice retired prior to the start of the 2005 season as the all-time leader in every major statistical category for wide receivers. He is widely regarded as the greatest wide receiver ever.
Rice was inducted into the College Football Hall of Fame in 2006 and the Pro Football Hall of Fame in 2010. He has co-authored two books about his life, "Rice" (1996) and "Go Long: My Journey Beyond the Game and the Fans" (2007).
---