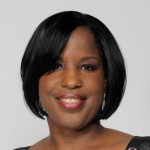 May 30, 1965 Roslyn McCallister Brock, chairperson of the National Association for the Advancement of Colored People, was born in Fort Pierce, Florida.
Brock earned her bachelor's degree magna cum laude from Virginia Union University in 1987. She then went on to earn masters degrees in healthcare administration from George Washington University in 1989, in business administration from the Kellogg School of Management at Northwestern University in 1999, and in divinity from the Samuel DeWitt Proctor School of Theology at Virginia Union University in 2009.
Brock joined the NAACP in 1984 and in 1991 initiated health symposiums at the annual NAACP national conventions. She also served as vice-chair of the NAACP Health Committee. In 2001, she was elected vice chairperson of the NAACP national board and in 2010 she was elected chairperson, the youngest person to serve in that position. Brock also worked for ten years in healthcare management at the W. C. Kellogg Foundation and since 2001 has served as an executive for Bon Secours Health System.