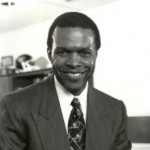 May 30, 1943 Gale Eugene Sayers, hall of fame football player and entrepreneur, was born in Wichita, Kansas.
Sayers was a two-time All-American at the University of Kansas where he also earned his bachelor's degree. Sayers is considered by many to have been the greatest open field runner in college football history. He was selected by the Chicago Bears in the 1965 NFL draft and over his brief seven season professional career was a five-time All-Pro selection.
Sayers was forced to retire from football in 1971 due to multiple knee injuries. Also in 1971, Sayers' autobiography, "I Am Third," was published and the made for television movie "Brian's Song," which told the story of Sayers' friendship with his cancer stricken teammate Brian Piccolo, was aired. In 1977, Sayers was inducted into the College Football Hall of Fame and the Pro Football Hall of Fame, the youngest inductee in the hall's history, and in 1994 the Chicago Bears retired his uniform number 40.
After retiring, Sayers returned to the University of Kansas and earned his master's degree in educational administration. He is chairman of Sayers 40, Inc. and an active philanthropist. In 1999 he was named the Ernest & Young Entrepreneur of the Year. In 2009, Sayers became director of fundraising for special projects for the University of Kansas Athletic Department.
---