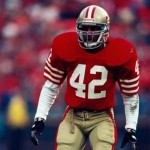 May 8, 1959 Ronald Mandel Lott, hall of fame football player, was born in Albuquerque, New Mexico.
Lott player college football at the University of Southern California from 1977 to 1980 and in 1980 was a unanimous All-American. He graduated from USC in 1981 with a Bachelor of Arts degree in public administration. Lott was drafted by the San Francisco 49ers in the 1981 NFL draft and over his 14 professional seasons he was a ten-time Pro Bowl selection and four-time Super Bowl champion.
He was selected to both the 1980s and 1990s All-Decade Teams. In 2000 Lott was inducted into the Pro Football Hall of Fame and in 2002 he was inducted into the College Football Hall of Fame. After retiring in 1994 Lott turned to broadcasting with Fox NFL Sunday and business ventures.
---