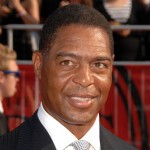 March 26, 1960 Marcus LeMarr Allen, hall of fame football player, was born in San Diego, California.
Allen played college football at the University of Southern California from 1978 to 1981. In 1981, he became the first player in NCAA history to rush for over 2,000 yards in one season. That same year, he won the Heisman Trophy, Maxwell Award, and Walter Camp Award. Allen was selected by the Los Angeles Raiders in the 1982 NFL Draft. That year he was the NFL Offensive Rookie of the Year.
Over his 16 season professional career, Allen was a six-time Pro Bowl selection and the 1985 NFL Most Valuable Player. He retired after the 1997 season as the first player ever to gain more than 10,000 rushing yards and 5,000 receiving yards during his career. Allen was inducted into the College Football Hall of Fame in 2000 and the Pro Football Hall of Fame in 2003. He published his autobiography, "The Autobiography of Marcus Allen," in 1997.
---