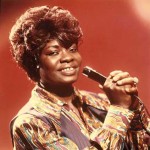 June 3, 2009 Koko Taylor, blues singer popularly known as the "Queen of the Blues," died.
Born Cora Walton on September 28, 1928 in Shelby County, Tennessee, Taylor moved to Chicago in 1952. During the late 1950s, she began singing in Chicago blues clubs. In 1966, Taylor recorded "Wang Dang Doodle" which became a hit and sold over a million copies.
During the late 1970s and the 1980s, Taylor dominated the female blues singer ranks with albums such as "The Earthshaker" (1978), "From the Heart of a Woman" (1981), and "Queen of the Blues" (1985) and winning 25 W. C. Handy Awards, more than any other artist. She was also a significant influence on Bonnie Raitt, Shemekia Copeland, and Janis Joplin.
Taylor won a Grammy Award for Best Traditional Blues Album in 1985 for "Blues Explosion" and was awarded a National Endowment for the Arts National Heritage Fellowship in 2004. She was inducted into the Blues Hall of Fame in 1997 and received the Blues Foundation Lifetime Achievement Award in 1999.
---