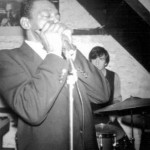 February 15, 1968 Marion "Little Walter" Jacobs, blues harmonica player, died.
Jacobs was born May 1, 1930 in Marksville, Louisiana. Jacobs moved to Chicago in 1945 and from 1948 to 1952 played in Muddy Walters' band. His harmonica is featured on most of Walters' classic recordings from the 1950s.
In 1952, Jacobs recorded his first hit, "Juke," which spent eight weeks at number one on the Billboard R&B charts and is still the only harmonica instrumental to top the charts. That recording was inducted into the Blues Hall of Fame in 1986, in 1995 it was listed by the Rock and Roll Hall of Fame as one of the 500 Songs That Shaped Rock and Roll, and in 2008 it earned a Grammy Hall of Fame Award as a recording of "lasting qualitative or historical significance."
Between 1952 and 1958, Jacobs had 14 top ten hits, including "Sad Hours" (1952), "My Babe" (1955), which was inducted into the Blues Hall of Fame in 2008, and "Key to the Highway" (1958). Jacobs was posthumously inducted into the Rock and Roll Hall of Fame in 2008, making him the only artist ever to be inducted specifically for his work as a harmonica player. His biography, "Blues with a Feeling: The Little Walter Story," was published in 2002.
---