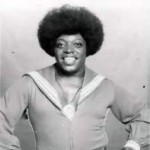 November 14, 1936 Cornelius E. Gunter, rhythm and blues singer, was born in Coffeyville, Kansas.
He began recording in 1953 singing backup on Big Jay McNeely's "Nervous Man Nervous." In 1957, he sang the title song for the movie "The Green Eyed Blonde." From 1958 to 1961, Gunter performed as a member of the Coasters and they recorded "Yakety Yak" (1958), their only number one hit, "Charlie Brown" (1959) and "Poison Ivy" (1959).
After leaving the Coasters, Gunter recorded several solo singles. In 1987, he was inducted into the Rock and Roll Hall of Fame along with the other members of the Coasters. On February 26, 1990, Gunter was shot dead in his car in Las Vegas, Nevada.