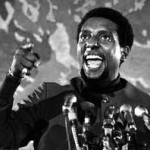 November 15, 1998 Kwame Ture (Stokely Carmichael), political activist and one of the first users of the term "Black Power", died.
Carmichael was born June 29, 1941 in Port of Spain, Trinidad and Tobago. He earned a bachelor's degree in philosophy from Howard University in 1964. While at Howard, Carmichael became involved with the Nonviolent Action Group, a campus based civil rights group that was affiliated with the Student Nonviolent Coordinating Committee (SNCC).
In 1965, working as a SNCC activist in Lowndes County, Alabama, Carmichael helped to increase the number of registered Black voters from 70 to 2,600. Carmichael became chairman of SNCC in 1966 and under his leadership the organization became more radical and focused on Black Power as its core goal and ideology.
In 1967, Carmichael stepped down as chairman of SNCC and that same year published his book, "Black Power." During this period he also lectured around the world, including North Vietnam, China, and Cuba. In 1969, he moved to Guinea-Conakry and became an aide to Guinean Prime Minister Ahmed Sekou Torue. He also changed his name to Kwame Toure.
In 1971, his second book, "Stokely Speaks: Black Power Back to Pan-Africanism," was published.