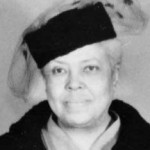 March 10, 1965 Daisy Elizabeth Adams Lampkin, suffragette and civil rights activist, died.
Lampkin was born August 9, 1883 in Washington, D. C. After moving to Pittsburgh, she joined the New Negro Women's Equal Franchise Federation which was later renamed the Lucy Stone League. In 1915, she became president of the league, a position she held until 1955. She also served as national board chairwoman of the National Association of Colored Women and assisted Mary McLeod Bethune in founding the National Council of Negro Women in 1935.
In 1930, Lampkin was recruited by the NAACP as the first field secretary for the organization and in 1935 she was promoted to national field secretary. During her last year in that position, 1947, she raised more than $1 million dollars for the organization. Lampkin was the NAACP Woman of the Year in 1945 and in 1964 she was given the Eleanor Roosevelt-Mary McLeod Bethune World Citizenship Award.
Her home in Pittsburgh was designated a historical landmark in 1983, the first time the state of Pennsylvania awarded a plaque to honor an African American in the city.