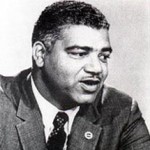 March 11, 1971 Whitney Moore Young, Jr., civil rights leader, drowned while swimming in Lagos, Nigeria.
Young was born July 31, 1921 in Lincoln Ridge, Kentucky. He earned a Bachelor of Science degree from Kentucky State University in 1941 and a master's degree in social work from the University of Minnesota in 1947. Young served in the United States Army from 1942 to 1945, becoming a first sergeant. In 1961, Young became executive director of the National Urban League where he served until his death.
During that time, he worked to end employment discrimination in the United States and turned the NUL from a relatively passive civil rights organization into one that aggressively fought for equitable access to socioeconomic opportunity for the historically disenfranchised. He also expanded the organization from 38 employees to 1,600 and the annual budget from $325,000 to $6,100,000. Young also served as president of the National Association of Social Workers from 1969 to 1971. In 1969, President Lyndon Johnson honored Young with the country's highest civilian award, the Presidential Medal of Freedom.
Hundreds of schools and other sites are named for Young. In addition, Clark Atlanta University named its School of Social Work in Young's honor, the Boy Scouts of America created the Whitney M. Young, Jr. Service Award, and Young's birthplace is designated a National Historic Landmark. Young authored "To Be Equal" (1964) and "Beyond Racism: Building an Open Society" (1969).
His biography, "Whitney M. Young, Jr. and the Struggle for Civil Rights," was published in 1989.
---