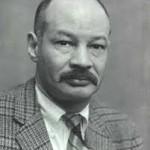 October 3, 1993 Felrath Hines, curator and artist, died.
Hines was born November 9, 1913 in Indianapolis, Indiana. He began his formal art training at the age of 31 at the School of the Art Institute of Chicago and later moved to New York City to study at the Pratt Institute. Trained to be an art conservator, he launched a very successful private practice that included clients such as the Yale University Art Gallery and the Whitney Museum of American Art.
In 1972, Hines joined the Smithsonian Institute as Chief Conservator of the National Portrait Gallery and from 1980 to his retirement in 1984 served in the same capacity at the Smithsonian's Hirshhorn Museum and Sculpture Garden. Hines was active in the Civil Rights Movement, including participating in the 1963 March on Washington and joining the Spiral Group, a group of African American artists formed by Romare Bearden in 1963.
While not opposed to participating in exhibitions of African American artists, Hines wanted his images to remain universal and not to be seen as having relevance exclusively to African Americans. As a result, in 1971 he refused to participate in the Whitney Museum of Art's exhibition "Contemporary Black Artists in America."