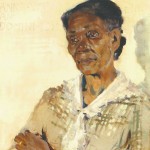 February 3, 1948 Laura Wheeler Waring, educator and painter, died.
Waring was born May 16, 1887 in Hartford, Connecticut. She graduated from the Pennsylvania Academy of Fine Arts. After graduating, she founded and taught in the art and music departments at the State Normal School at Cheyney (Cheyney University) for 30 years.
While teaching, Waring was also painting and between 1927 and 1931 her work was displayed at several institutions, including the Smithsonian Institute and the Art Institute of Chicago. In 1943, the Harmon Foundation commissioned her to paint the series "Portraits of Outstanding American Citizens of Negro Origin."
A year after her death, the Howard University Gallery of Art held an exhibition of her work.
---