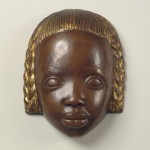 October 7, 1888 Sargent Claude Johnson, painter, ceramist, and sculptor, was born in Boston, Massachusetts.
In 1915, Johnson moved to the San Francisco Bay area and began studying at the A. W. Best School of Art. From 1919 to 1923 he attended the California School of Fine Arts (now the San Francisco Art Institute).
In 1926, Johnson began showing his work with the Harmon Foundation of New York and won numerous awards resulting in national attention. From 1945 to 1965, Johnson made a number of trips to Southern Mexico and started incorporating the people and culture into his work. Johnson died on October 10, 1967 and in 1998 the San Francisco Museum of Modern Art hosted a traveling retrospective of his work.
Johnson's work is included in the collections of several museums, including the Art Institute of Chicago and the Cleveland Museum of Art. In February, 2010 his work, "Untitled (Standing Woman)," was auctioned for $52,800, a record for one of his works.