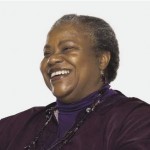 October 4, 1942 Bernice Johnson Reagon, singer, composer, scholar and social activist, was born in southwest Georgia.
Reagon was an active participant in the Civil Rights Movement of the 1960s as a member of the Freedom Singers, organized by the Student Non-violent Coordinating Committee (SNCC). She is a specialist in African American oral history, performance, and protest traditions and was the producer and narrator of the Peabody Award winning radio series "Wade in the Water, African American Sacred Music Traditions". She is also Professor Emeritus of History at American University, Curator Emeritus at the Smithsonian Institution's National Museum of American History and from 2002 to 2004 was Cosby Chair Professor of Fine Arts at Spelman College.
In 1995, President William Clinton presented Reagon with the Charles Frankel Prize for her contributions to the public understanding of the humanities. In 2009, Reagon received an honorary doctoral degree from the Berklee College of Music.