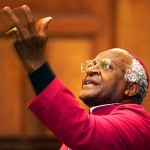 October 7, 1931 Desmond Mpilo Tutu, South African cleric, activist and author, was born in Klerksdorp, Transvaal, South Africa.
Although Tutu wanted to become a physician, his family could not afford the training and therefore he studied education and began to teach in Johannesburg in 1953. In 1960, Tutu was ordained as an Anglican priest and in 1962 traveled to London to study at King's College where he received his Bachelor's and Master's degrees in Theology in 1965 and 1966, respectively.
He returned to South Africa and in 1967 became Chaplain at the University of Fort Hare and from 1970 to 1972 lectured at the National University of Lesotho. In 1972, Tutu returned to the United Kingdom to serve as Vice Director of the Theological Education Fund of the World Council of Churches. In 1975 he again returned to South Africa as Anglican Dean of St. Mary's Cathedral, the first Black person to hold that position. Tutu's opposition to apartheid was vigorous and unequivocal and he was outspoken at home and abroad.
In 1986 he became the first Black person to lead the Anglican Church in South Africa when he became Archbishop of Cape Town and from 1987 to 1997 he served as President of the All Africa Conference of Churches. After the fall of apartheid, Tutu headed the Truth and Reconciliation Commission. Since his retirement, Tutu has worked as a global activist on issues pertaining to democracy, freedom and human rights. In 1984, Tutu was awarded the Nobel Peace Prize for "his role as a unifying leader figure in the campaign to resolve the problem of apartheid in South Africa".
He has also received numerous doctorates and fellowships at distinguished universities around the world. Tutu is the author of several collections of sermons and other writings, including "Crying in the Wilderness" (1982), "The Rainbow People of God: The Making of a Peaceful Revolution" (1994), and "No Future Without Forgiveness" (1999).