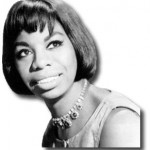 April 21, 2003 Nina Simone, singer, songwriter and civil rights activist, died.
Simone was born Eunice Kathleen Waymon on February 21, 1933 in Tryon, North Carolina. She began playing the piano at the age of three and made her debut as a classical pianist at 12. In 1958, she released her debut album, "Little Girl Blue," and over her career recorded more than 40 albums with songs that included "My Baby Just Cares For Me" (1958), "Mississippi Goddam" (1964), "Four Women" (1966), and "To Be Young Gifted and Black" (1970).
Simone recorded her last album, "A Single Woman," in 1993. Simone performed and spoke at many civil rights events, including the Selma to Montgomery March, and her songs often contained civil rights messages. Her regal bearing and commanding stage presence earned her the title "High Priestess of Soul." Simone left the United States in 1970 for Barbados and Europe before settling in France where she died. Her autobiography, "I Put a Spell on You," was published in 1992.
---