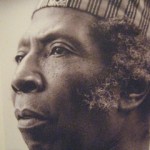 April 21, 2003 Robert Blackburn, artist, printmaker and educator, died.
Blackburn was born December 19, 1920 in Summit, New Jersey. As a teenager, he was mentored by several Harlem Renaissance artists, including Charles "Spanky" Alston and Augusta Savage. Blackburn studied lithography, etching, woodblock, and silk-screening at the WPA Harlem Community Art Center.
In 1948, he established the Printmaking Workshop which became influential in the international printmaking community, producing such works as "Impressions Our World" (1974), a portfolio of prints by African American artists. Blackburn taught at Cooper Union, Pratt Institute, Columbia University, and Rutgers University.
His work is included in the collections of the Library of Congress, the Brooklyn Museum, the Baltimore Museum of Art, and the Tel Aviv Museum. In 1992, he received a John T. and Catherine D. MacArthur Foundation Fellowship and in 2000 he received Lifetime Achievement Awards from the College Art Association and The National Fine Print Association.
---