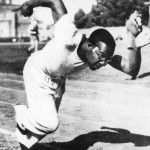 January 31, 1967 Thomas Edward Tolan, "the Midnight Express" and two-time Gold medal winning Olympian, died.
Tolan was born September 29, 1908 in Denver, Colorado and moved with his family to Detroit, Michigan when he was 15 years old. Tolan attended Cass Technical High School where he set state records in the 100 and 220-yard dashes. Tolan then attended the University of Michigan and graduated in 1931.
At the 1932 Los Angeles Olympic Games, Tolan won Gold medals in the 100 and 200-meter events and was the first African American to receive the title "world's fastest human." In his career as a sprinter, Tolan won 300 races and lost only 7. During the 1940s and 1950s, Tolan worked at a variety of jobs, including teaching at Irving Elementary School on the west side of Detroit.
In 1958, Tolan was inducted into the Michigan Sports Hall of Fame. Tolan was posthumously inducted into the National Track and Field Hall of Fame in 1982.