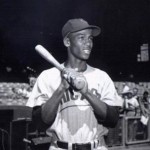 January 31, 1931 Ernest Banks, hall of fame baseball player, was born in Dallas, Texas.
Banks made his professional baseball debut in 1950 with the Kansas City Monarchs of the Negro Baseball League and broke into the Major Leagues in 1953 with the Chicago Cubs, their first black player.
Over his 18 season career, Banks was an eleven-time All-Star, two-time National League Most Valuable Player (1958 and 1959), and a Gold Glove Award winner. After retiring, the Cubs hired him as a coach for the team. In 1977, Banks was elected to the Baseball Hall of Fame and in 1982 the Cubs retired his uniform number 14.
On March 31, 2008, a statute of Banks was unveiled outside of the Cub's stadium.
---