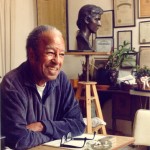 March 5, 1989 James Richmond Barthe, sculptor, died.
Barthe was born January 28, 1901 in Bay St. Louis, Mississippi. He showed great promise as an artist at a young age but due to his race was barred from enrolling in any of the art schools in the South. In 1924, he was admitted to the Art Institute of Chicago and during his four years of study he was recognized as a flattering portrait painter.
During his senior year, he was introduced to sculpture and he exhibited two busts in the 1927 Negro in Art Week Exhibition and in the 1928 exhibition of the Chicago Art League. In 1934, he was awarded his first solo show in New York City. In 1946, Barthe became a member of the National Sculpture Society and in 1950 he was the recipient of the Audubon Artists Gold Medal.
Barthe's works are in the collections of many museums, including the Whitney Museum of American Art, the Metropolitan Museum of Art, and the Pennsylvania Museum of Art. His biography, "Barthe: A Life in Sculpture," was published in 2008.
---