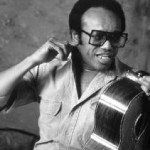 March 4, 1944 Robert Dwayne "Bobby" Womack, singer, songwriter and musician, was born in Cleveland, Ohio.
As a youngster, Womack and his four brothers formed a gospel group called the Womack Brothers and began touring the gospel circuit. In 1962, they were renamed the Valentinos and began to sing secular music. They had hits with "Looking For a Love" (1962) and "It's All Over Now" (1964), which was written by Womack.
Womack's solo career began in 1968 and he had his first hit in 1971 with "That's The Way I Feel About Cha." That was followed by such hits as "A Woman's Gotta Have It" (1972), "Nobody Wants You When You're Down And Out" (1973), "If You Think You're Lonely Now" (1982), and "I Wish He Didn't Trust Me So" (1985). As a songwriter, Womack wrote The Rolling Stones' first United Kingdom number one hit, "It's All Over Now" and New Birth's "I Can Understand It," among other songs.
Womack was inducted into the Rock and Roll Hall of Fame in 2009.
---