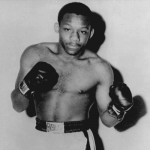 March 3, 1937 Eddie Perkins, hall of fame boxer, was born in Clarksdale, Mississippi but raised in Chicago, Illinois.
Perkins started boxing professionally in 1956 and was willing to fight anyone anywhere. Over his career, he fought in 23 countries and Puerto Rico. Perkins won the World Lightweight championship in 1962, lost it later that year, and regained the title in 1963. He successfully defended the title twice before losing it for a final time in 1965.
Perkins retired from boxing in 1975 with a record of 74 wins, 20 losses, and 2 draws. He was inducted into the World Boxing Hall of Fame in 2006 and the International Boxing Hall of Fame in 2008.