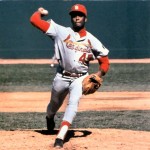 November 9, 1935 Pack Robert "Bob" Gibson, baseball Hall of Fame pitcher, was born in Omaha, Nebraska.
Despite a childhood filled with medical problems, Gibson was active in sports and won a basketball scholarship to Creighton University.
In 1957, he signed to play baseball with the St. Louis Cardinals but delayed his start to play basketball with the Harlem Globetrotters for a year. Gibson entered the major leagues in 1959 and over the eight seasons between 1963 and 1970 won nine Gold Glove Awards, was the World Series Most Valuable Player in 1964 and 1967, and won the Cy Young Award in 1968 and 1970.
In game 1 of the 1968 World Series, Gibson had 17 strikeouts against the Detroit Tigers, a World Series record. Gibson retired after the 1975 season and in 1981 he was inducted into the Baseball Hall of Fame. "Stranger to the Game: The Autobiography of Bob Gibson" was published in 1994.