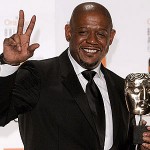 July 15, 1961 Forest Steven Whitaker, actor, producer and director, was born in Longview, Texas.
Whitaker's family moved to Los Angeles in 1965 due to racism. While in high school, Whitaker took voice lessons, performed in musicals, and caught the "acting bug." Whitaker was accepted into the Music Conservatory at the University of Southern California to study opera as a tenor and subsequently was accepted into the Drama Conservatory. He graduated from USC in 1982. Whitaker's first film role of note was in "Fast Times at Ridgemont High" (1982).
In 1988, he starred in "Bird" which earned him the Best Actor Award at the Cannes Film Festival. In 2006, he starred in "The Last King of Scotland," which earned him an Academy Award for Best Actor in a Leading Role. Whitaker made his directorial debut in 1993 with the HBO movie "Strapped." In 1995, he directed the film "Waiting to Exhale." Other films directed by Whitaker include "Hope Floats" (1998) and "First Daughter" (2004).
Whitaker was given a star on the Hollywood Walk of Fame in 2007. Whitaker currently stars in the television series "Criminal Minds: Suspect Behavior."