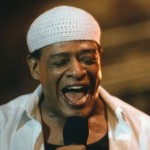 May 12, 1940 Alwyn Lopez "Al" Jarreau, vocalist, was born in Milwaukee, Wisconsin.
Jarreau earned a Bachelor of Science degree in Psychology from Ripon College in 1962 and a Master's Degree in Vocational Rehabilitation from the University of Iowa in 1964. In 1968, he decided to make music his primary occupation and began playing in clubs around Los Angeles.
In 1975, Jarreau released his critically acclaimed debut album, "We Got By," which brought him international fame. Over his career, Jarreau has released more than 50 albums, including "All Fly Home" (1978), "Breakin' Away" (1981), "Heaven and Earth" (1992), and "Living for You" (2006). Jarreau is a 12-time Grammy Award nominee, winning seven, and the only vocalist in history to win in three separate categories: jazz, pop, and R&B.
---