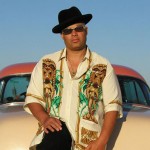 April 23, 1952 Narada Michael Walden, drummer, vocalist, songwriter and producer, was born in Kalamazoo, Michigan.
After graduating from college, in 1976 Walden released his debut album, "Garden of Love Light" and in 1979 he released his breakthrough album, "The Awakening." Other albums from Walden include "Confidence" (1982), "The Nature of Things" (1985), and "Sending Love to Everyone" (1995).
In the 1980s Walden became a mega-producer and songwriter, winning Grammy Awards in 1985 for Song of the Year for writing Aretha Franklin's "Freeway of Love," in 1988 for Producer of the Year, and in 1993 for Album of the Year for the movie soundtrack for "The Bodyguard." He also produced the Temptations' "Stay," their first number one hit in 25 years from the album "Phoenix Rising." Walden has also worked with Mariah Carey ("I Don't Wanna Cry"), Diana Ross ("Take Me Higher"), Regina Belle ("Baby Come to Me"), and Al Jarreau ("Heaven & Earth").
Walden also owns and operates Tarpan Studios in San Rafael, California.
---