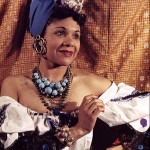 May 21, 2006 Katherine Mary Dunham, dancer, choreographer, author, educator, activist, and "Matriarch and Queen Mother of Black Dance," died.
Dunham was born June 22, 1909 in Glen Ellyn, Illinois. She became fascinated with dance at a young age and while in high school started a dance school for young black children. Dunham studied dance and anthropology at the University of Chicago and earned her bachelor's degree in social anthropology in 1936.
When she was 21, Dunham formed Ballet Negres, the first black ballet company in the United States, and from 1933 to 1936 she performed as guest star for the Chicago Opera Company. In 1940, she and her company performed for 20 weeks in the Broadway production of "Cabin in the Sky." In the early 1940s, Dunham also appeared in several movies, including "Carnival of Rhythm" (1941) and "Stormy Weather" (1943).
In 1945, she opened the Katherine Dunham School of Dance and Theater. Her students included Eartha Kitt, James Dean, Gregory Peck, Shelly Winters, Sidney Poitier, Shirley MacLaine, Warren Beatty, and many others who went on to stardom. Beginning in 1947, she and her troupe performed almost exclusively internationally, performing in Europe, North Africa, South America, and the Far East.
Dunham retired from performing in 1967. In 1983, Dunham received the Kennedy Center Honors, in 1986 she received the Distinguished Service Award from the American Anthropological Association, in 1987 she was inducted into the Hall of Fame of the National Museum of Dance, and in 1989 she was awarded the National Medal of Arts. Dunham's biography, "Katherine Dunham: A Biography," was published in 1979.
---