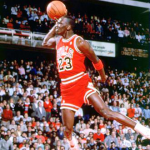 February 17, 1963 Michael Jeffrey "Air" Jordan, hall of fame basketball player, was born in Brooklyn, New York.
In 1981, Jordan earned a basketball scholarship to the University of North Carolina who he led to a National Championship in 1982 and where he won the Naismith and Wooden College Player of the Year Awards in 1984. Jordan returned to UNC to earn his bachelor's degree in 1986.
Jordan was selected by the Chicago Bulls in the 1984 NBA draft and was the 1985 NBA Rookie of the Year. Over his sixteen year professional career Jordan was 5-time NBA Most Valuable Player, 10-time All-NBA First Team, 9-time All-Defensive Team, 14-time All-Star, won 10 scoring titles, 3 steals titles, and the 1988 Defensive Player of the Year.
Jordan was also a member of the 1984 Los Angeles and 1992 Barcelona Gold medal winning Olympic basketball teams. In 1999, he was named the greatest North American athlete of the 20th century by ESPN and in September, 2009 he was inducted into the Naismith Memorial Basketball Hall of Fame. His autobiography, "For the Love of the Game," was published in 1998. Since 2004 Jordon has owned Michael Jordan Motorsports and in 2006 he became part-owner of the Charlotte Bobcats professional basketball team.
Jordan is one of the most marketed sports figures in history with an estimated annual income of $40 million from endorsements.
---