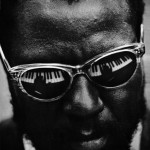 February 17, 1982 Thelonious Monk, jazz pianist and composer, died.
Monk was born October 10, 1917 in Rocky Mountain, North Carolina and began playing the piano at the age of six. In the early to mid-1940s, he served as the house pianist at Minton's Playhouse in Harlem, New York which featured most of the leading jazz soloist of the day. Monk made his first studio recording in 1944 and his first recording as leader of a group in 1947.
Although Monk was highly regarded by his peers and jazz critics, his records did not sell well because his music was considered too difficult for the mass market. His first commercially successful album was "Brilliant Corners" (1956) and his most commercially successful album was "Monk's Dream" (1963). Monk was inducted into the Down Beat Jazz Hall of Fame in 1963. On February 28, 1964, Monk became one of only five jazz musicians to appear on the cover of Time Magazine.
In 1988, Clint Eastwood produced a documentary "Thelonious Monk: Straight No Chaser." Monk was posthumously awarded a Grammy Lifetime Achievement Award in 1993 and in 2006 he was awarded a Pulitzer Prize Special Citation "for a body of distinguished and innovative musical composition that has had a significant and enduring impact on the evolution of jazz."
The album, "Thelonious Monk with John Coltrane" (1961), was inducted into the Grammy Hall of Fame in 2007 as a recording of "lasting qualitative or historical significance."
---