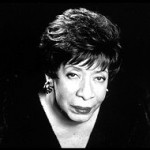 October 20, 2005 Shirley Horn, jazz singer and pianist, died.
Horn was born May 1, 1934 in Washington D. C. She began playing the piano at an early age and had thoughts of becoming a classical artist. She first achieved fame in 1960 and over her career was nominated for nine Grammy Awards, winning in 1999 for Best Jazz Vocal Album for "I Remember Miles."
Horn was recognized by the United States Congress for "her many achievements and contributions to the world of jazz and American culture", and performed at the White House for several U. S. presidents. In 2002, she was awarded an honorary Doctor of Music degree by Berklee College of Music.
In 2005, Horn was awarded the National Endowment for the Arts Jazz Masters Award, the highest honor that the U. S. bestows upon jazz musicians.