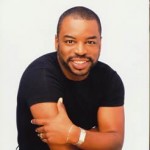 February 16, 1957 Levardis Robert Martyn "LeVar" Burton, actor, director and author, was born in Landstuhl, West Germany.
Burton graduated from the University of Southern California School of Theater. While still in school, he came to prominence portraying Kunta Kinte in the 1977 television miniseries "Roots." In 1986, Burton originated the role of La Forge in the "Star Trek: The Next Generation" television series. He subsequently reprised that role in the series of films beginning with "Star Trek Generations" (1994) through "Star Trek Nemesis" (2002).
Burton also directed the Disney Channel television movie "Smart House" (1999) and the film "Blizzard" (2003). Burton has won a number of awards, including the 1992 Peabody Award as executive producer of an episode of "Reading Rainbow," 2000 Grammy Award for Best Spoken Word Album, "The Autobiography of Martin Luther King, Jr.," and 2001 and 2002 Daytime Emmy Awards for Outstanding Performance in a Children's Series.
Burton is the host and executive producer of a documentary titled "The Science of Peace" which investigates the science and technology aimed at enabling world peace.
---