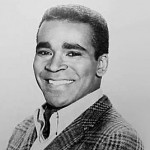 September 27, 1933 Francis Gregory Alan Morris, television and movie actor, was born in Cleveland, Ohio.
Morris began his acting career in the early 1960s with guest appearances on TV shows such as "The Twilight Zone" and "Ben Casey". In September, 1966 he was cast in his most memorable role as the electronics expert in "Mission: Impossible".
After that series was cancelled in March, 1973, Morris continued to appear in movies and make guest TV appearances until he was cast in the TV series "Vega$" in 1978. That series aired until 1981. Morris died August 27, 1996.